WHAT
This study was about understanding the customer experience of gas stations. The results of this study were used to identify opportunities to enhance customer enjoyment at gas stations.
WHY
Advancements in automotive and energy technology in the 21st century are creating an opportunity for gas stations to rethink their service strategies. With system disruptors on the horizon, gas stations must consider ways to build customer loyalty to stay relevant.
WHY
This study was completed with the methodologies of design thinking and contextual research. Both surveys and contextual research methodologies were applied to understand how people use gas stations (the current state) to make recommendations for how gas stations could be designed to bring people joy (the future state).
WHO
The economy of the gas station is comprehensive and involves many stakeholders: oil companies, alternative energy companies, transportation companies, grocery wholesalers, distributors, marketers, legislators, store owners, vehicle owners and more. Any stakeholder who has a vested interested in gas station profitability and use will find the results of this study useful in considering the future state of the industry.
team
Ai-ling Chang, Design Management | My Giang, Design Management | Shiqi Cai, Graphic Design
MY contributions
Project Management, Research, Analysis, Synthesis, Writing, Editing, Idea Visualization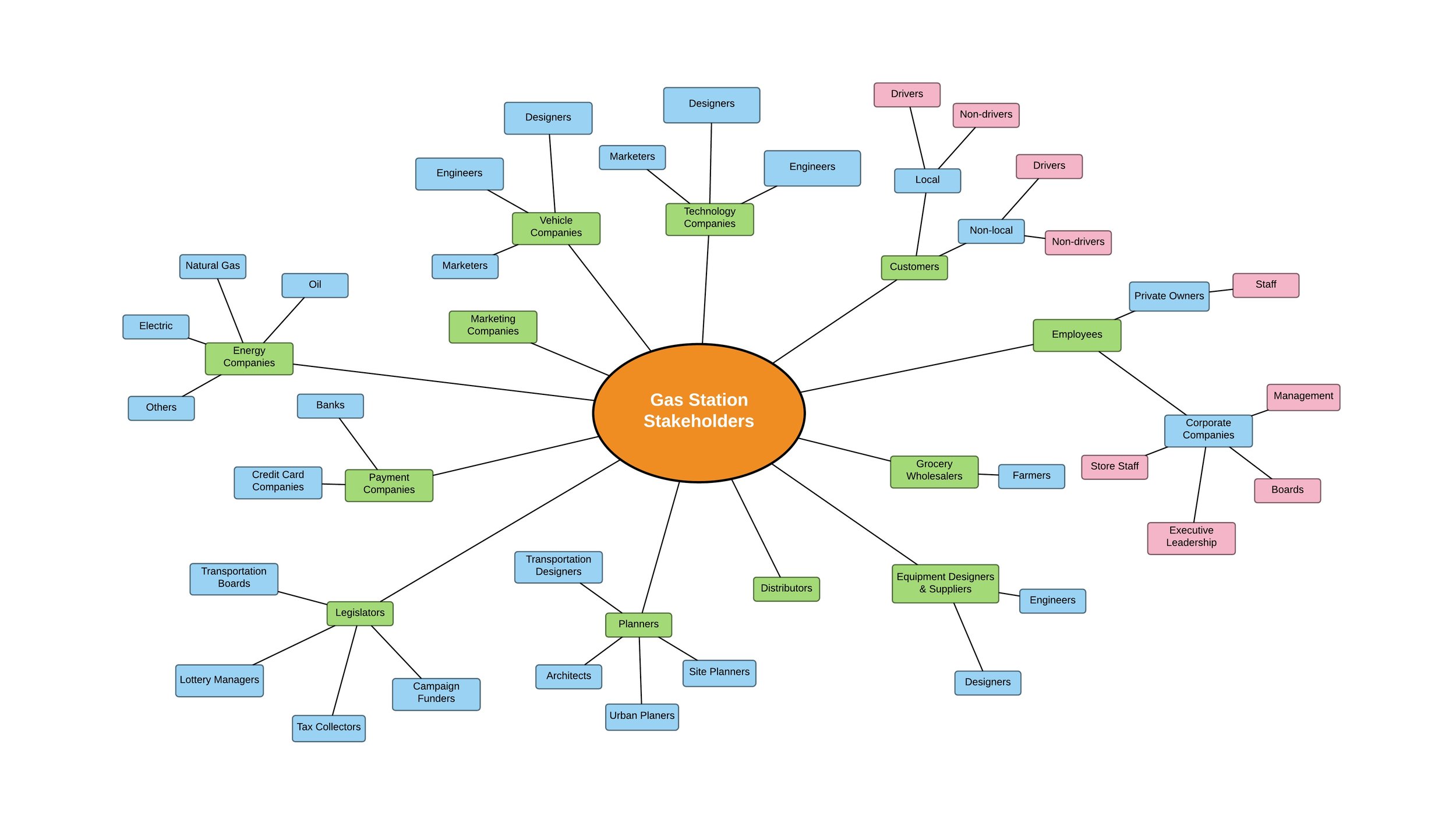 preliminary research
Secondary research was conducted to understand the gas station system and areas of opportunity for further research and design.
Popular media searches
Publications research
Industry association resources
Design association resources
Market research
Buzz reports
Corporate web sites
Customer review sites
Academic sources
problem
Many customers complain about their gas station experiences on review sites and do not seem to enjoy their experience.
opportunity
To create a gas station experience customers enjoy, encouraging brand loyalty and increased spending.
Research plan
During initial phases of the project our first step was to design a comprehensive research plan. This research plan was developed within the framework of our primary research question method, context and goal.
For each guiding research sub-question, we developed another set of questions to help us fully understand the problem space. Within our plan, we then outlined our goals and methodologies for data collection.
Research methods
A combination of qualitative and quantitative methods were used:
Survey
Non-participant shadowing
Ethnographic interview
Participant observation
Diary studies
Data collection
During the data collection process we collected information from both secondary and primary research. The goal of data collection was to answer each question posed in the research plan and matrix. To organize this vast amount of information, we used a working wall and grouped data by its corresponding research question. The key focus during this phase of the project was primary research through field work using the AEIOU worksheet, photos, sketches and notes.
As we aligned data to corresponding research questions, preliminary trends of information began to emerge. We identified trends in positive and negative feelings, according to specific attributes of the gas station experience. We sorted data accordingly and used color coding to identify the source of the information.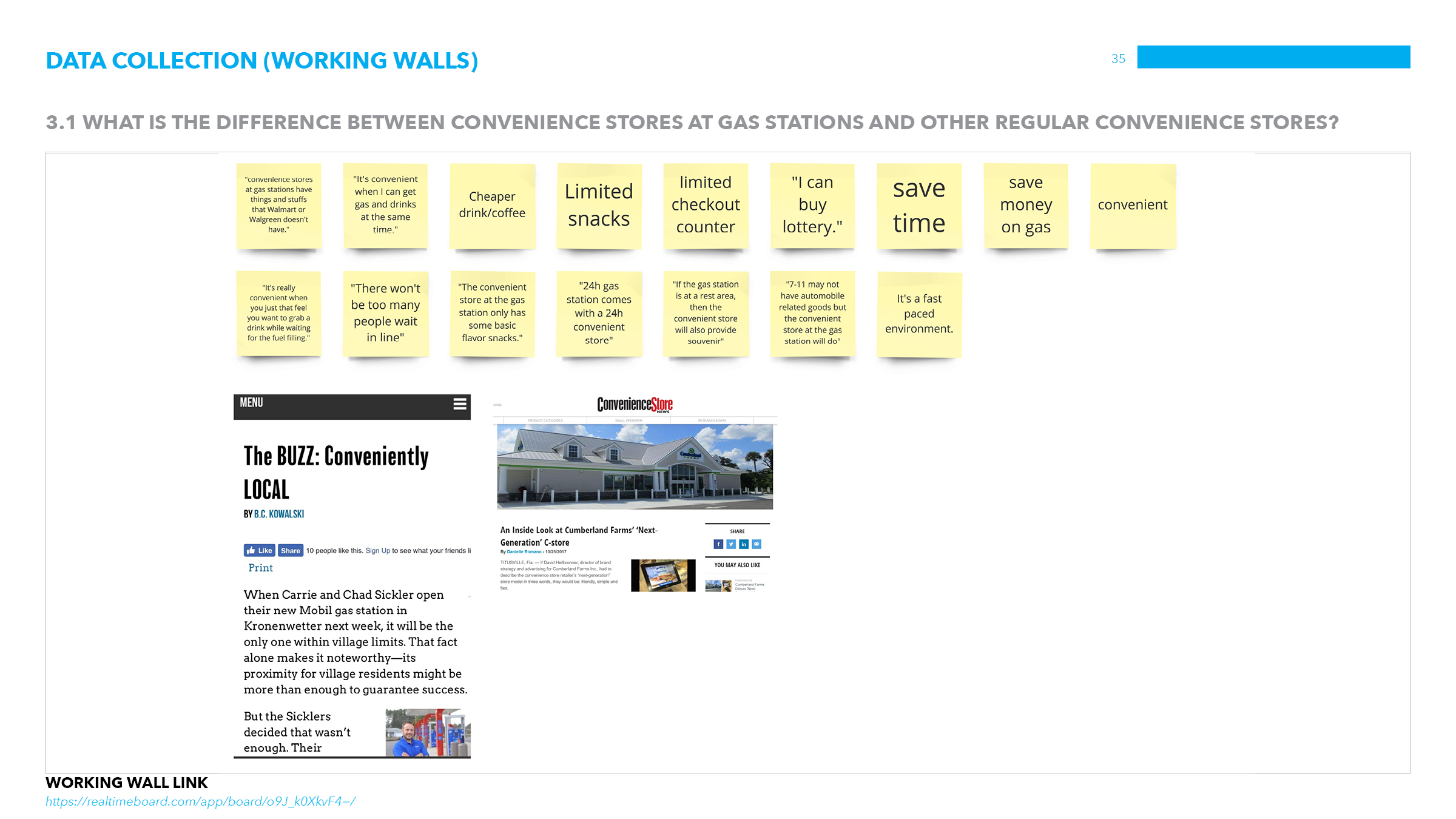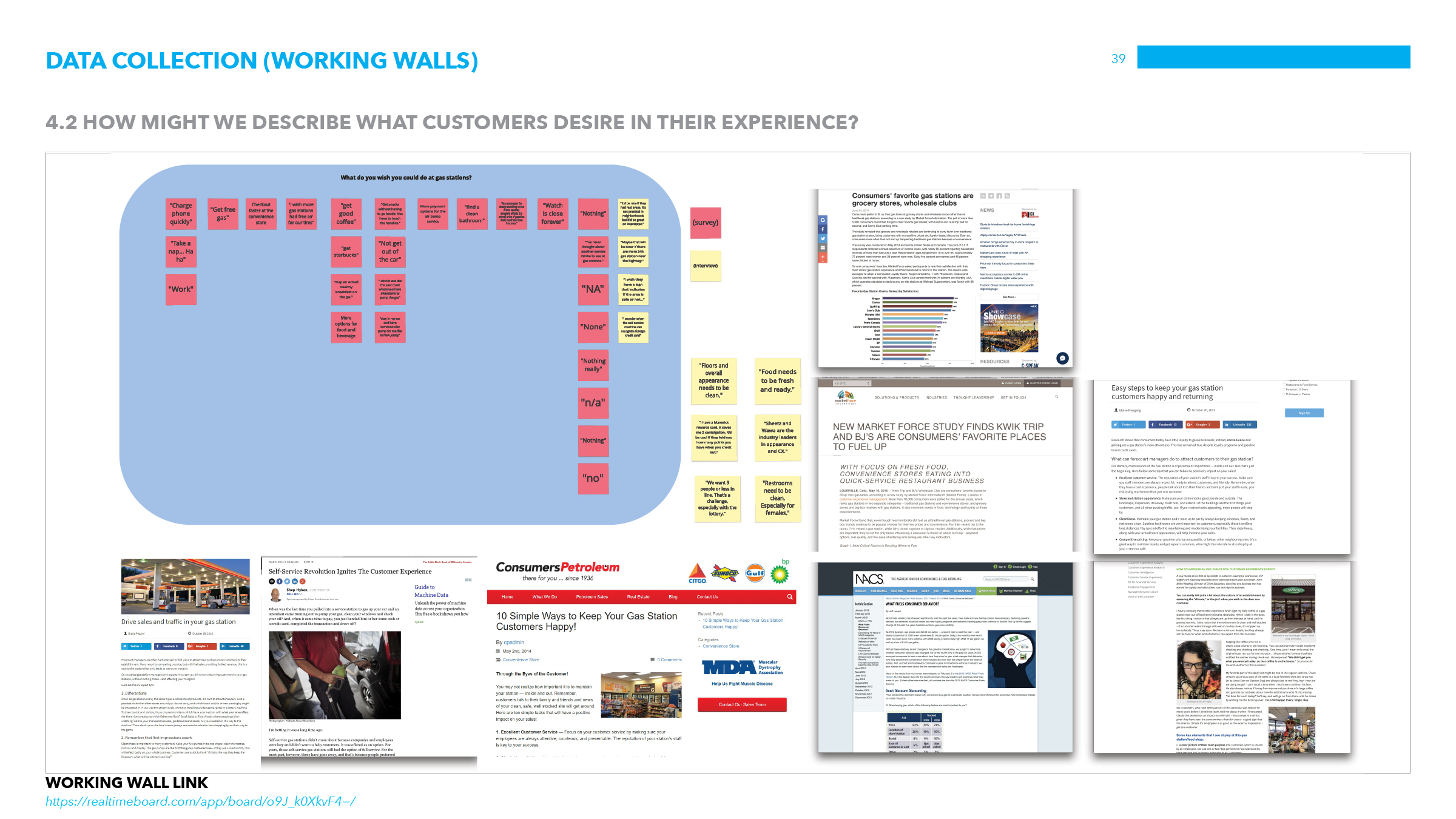 Data analysis
Key findings were identified and explored by using different analysis methods.
Stakeholders Map
Affinity Diagram
Personas and Empathy Maps
User Journey Map
Trend Matrix
Convergence Map
 
Conclusion
The purpose of this study was to understand the customer experience of gas stations. By applying the methodology of design thinking and contextual research, we sought to understand the current state of the system. This involved conducting a combination of both secondary and primary research. Through the affinitization process, we distilled our data into key findings which led to the development of key insights. From there, the use of design analysis tools allowed us to combine our insights with observations of trends in technology and culture in order to develop opportunities for design moving forward.
What we learned through this process is that technology and human behavior will be driving forces of innovation within the gas station experience. In order to withstand the forces of system disruptors, such as electric cars and alternative sources of energy, gas stations must evolve. To do that, they will need to adopt business models that embrace changing trends of human behavior, belief systems and lifestyles.
Integrated technology systems, long work hours and 24-hour connection are cultural shifts that gas stations can tap into to take their experience to the next level. To-date, gas stations have operated as a transient stop for customers to conveniently take care of transport necessities. Shifting from a convenient-necessity model to a desired-necessity model will be key in ensuring the future success of gas stations. If gas stations can adopt models that incorporate new energy, automotive and payment technologies while providing access to essential customer needs, they will transcend current customer assumptions about what a gas station is or is not, and become a destination in their own right.